October 16th, 2014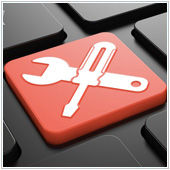 There are a number of popular communication systems that a company can implement, with one of the most well know being VoIP. While VoIP is popular, there are a wide number of providers and services, and it can be difficult to know which one to choose. One factor you should look at when considering a new VoIP provider is their QoS, or Quality of Service.
What is QoS?
When you hear VoIP providers or IT experts talking about Quality of Service what they are referring to is the overall performance of a VoIP system or network. This performance is usually measured by what the end-users think of as the system's performance and by looking at other statistics like bandwidth use, transmission (call) delay, error rates, etc.
Why is it important?
QoS is not just used for VoIP systems, in fact it has been something even traditional phone providers strive for. Think back to your original landline service, chances are that 99% of the time call quality was perfect, or near perfect. This is because traditional phone network providers invested in physical networks and connections that offer high QoS, all of the time. If you switch from one provider to another, there is a good chance that quality doesn't change.
Read more.